LeRoy Anderson - A Burlington Hero
With more and more men and women of "The Greatest Generation" passing away as the years go by since World War II ended, we sometimes tend to forget the courage and selflessness of those who served our country in a time of great danger. Even more forgotten at times are those who gave their lives during that war.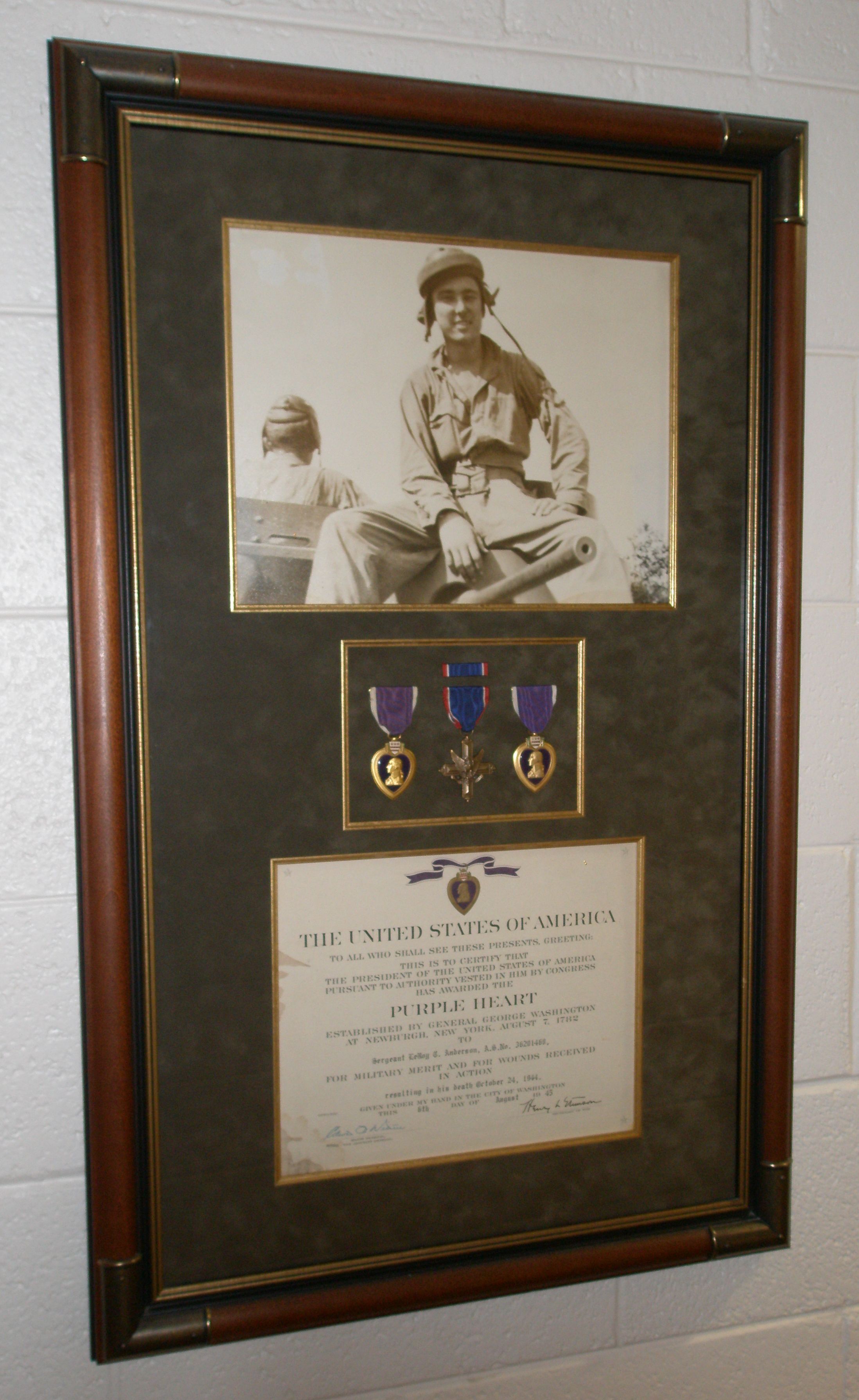 While about 70 servicemen from (or formerly from) Burlington and the surrounding area were killed in action or died from disease or accidents while serving in World War II, most were not known beyond their families, their relatives, their friends, their fellow service men and women, and their communities.
There was one Burlington soldier killed during the war, however, whose exploits had been known throughout the nation and even internationally. That soldier was Burlington native, LeRoy Clark Anderson (shown at left in a framed display in Burlington's Veterans Terrace), who was the first draftee in World War II to receive the Distinguished Service Cross, the nation's second highest military award, next only to the Medal of Honor. LeRoy was also awarded two Purple Hearts.
LeRoy, better known as Roy or Andy, was born in 1918 in a house built by his father, Erwin, which still stands on Briody Street. Andy was in the first group of Burlington boys to join the Army in January 1941 to fill the local draft board's quota. The other volunteers were Joseph A. Pieters, James Corbett, Wallace Bartelson, and Leon Bender. During training, Andy was assigned to Company A of the 192nd Tank Battalion and became a tank driver. The company was sent to the Philippine Islands, arriving in Manila on Thanksgiving Day 1941.
On February 3, 1942, in an engagement against the Japanese, Andy led his platoon of tanks into action. According to newspaper clippings of the time, an American counterattack was being held up by Japanese machine gun nests. Andy's platoon of tanks was called in to clear out the nests. While leading the counterattack and attempting to retake positions lost to the Japanese, Andy's tank was knocked out. Andy and his crew climbed out of their tank and continued the attack on foot using hand grenades and rifles to wipe out the machine gun nests. Andy was wounded during the attack and did not return to duty until February 12th.
For his actions, Andy was awarded the Distinguished Service Cross – the first draftee in World War II to receive the medal. During the presentation, General Douglas MacArthur stated that Andy had demonstrated "extraordinary heroism" in action against the Japanese.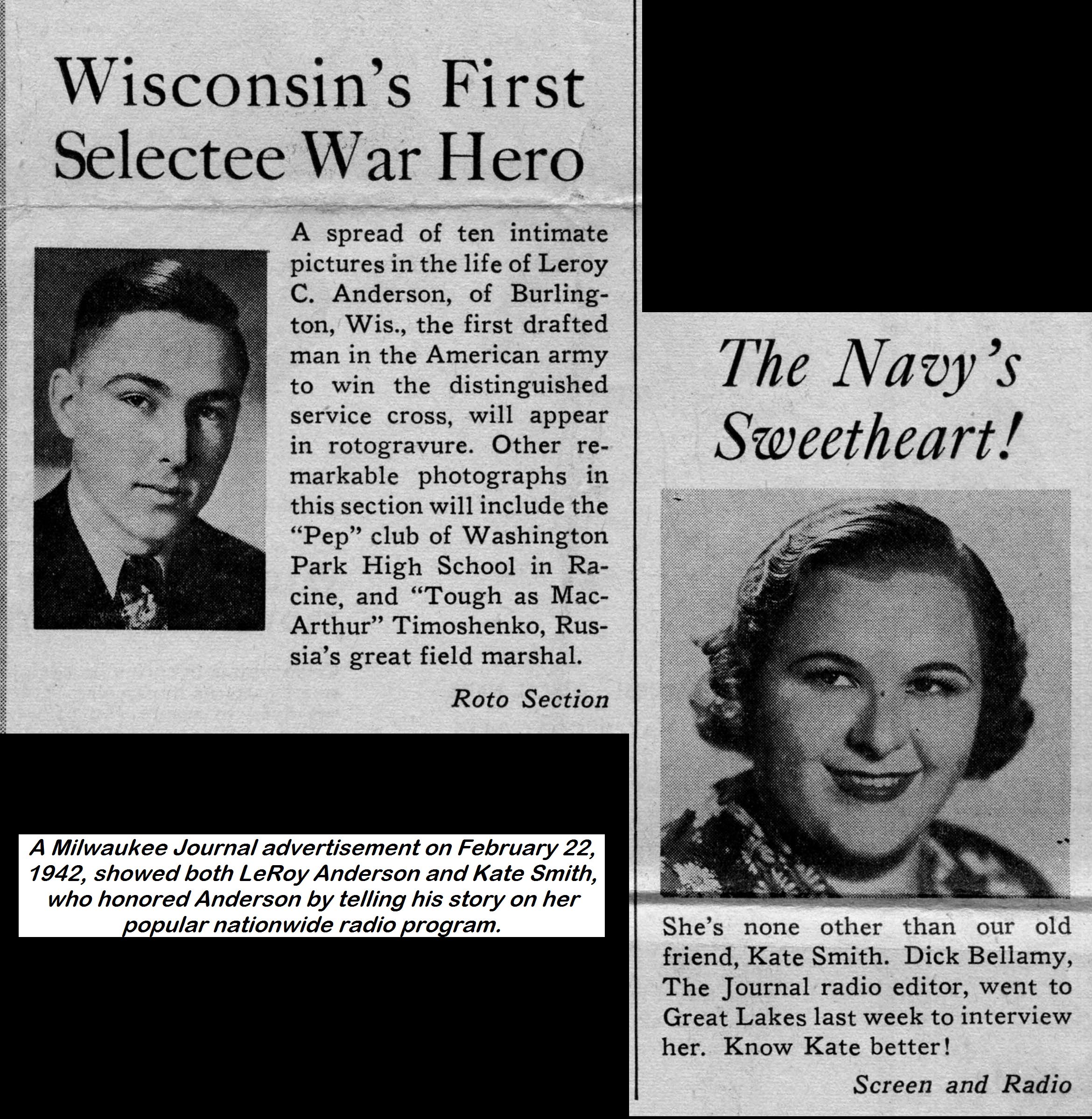 Newspapers throughout the world noted the award, Paramount News made a newsreel, the Kate Smith radio show aired a segment celebrating Andy's exploits, and Boys' Life magazine included an article on Andy, who was an Eagle Scout and Scout leader. His stepmother, Mrs. Hattie Anderson, allowed photos to be taken of Andy's bedroom, Scout uniform, shortwave radio, and other possessions. Burlington held an "Aid Andy" week to promote the sale of war bonds.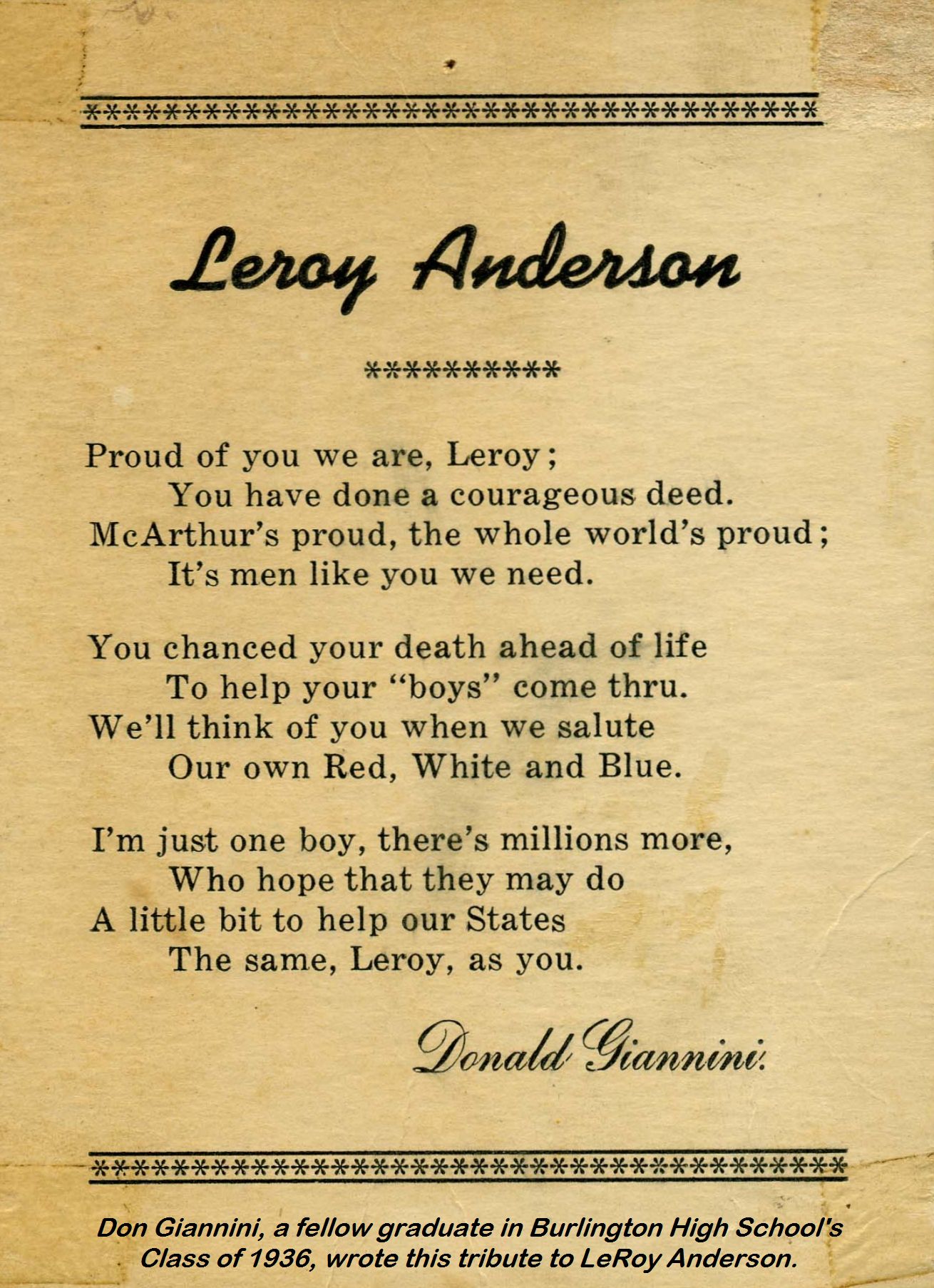 On April 9, 1942, Andy became a prisoner of war when 66,000 Filipino and 12,000 American defenders of Bataan, facing a shortage of food, ammunition, and medical supplies, were surrendered. He and the other members of A Company were taken to the southern tip of the Bataan Peninsula from where Andy and the others, under brutal treatment from their captors, began the infamous Bataan death march.
Andy survived the death march, but experienced all the deprivations and cruel treatment that the Japanese imposed on their prisoners. In October 1944, with the U.S. re-engaging in action in the Philippines, the Japanese loaded about 1,800 POWs aboard the freighter Arisan Maru to take them to Japan to work in their factories. In contravention of the Geneva Convention, the Japanese refused to mark POW ships with red crosses to indicate they were carrying prisoners.
On October 24, an American submarine torpedoed the Arisan Maru, not knowing it was a POW ship, causing the deaths of all but nine of the prisoners when the Japanese refused to rescue any of the POWs. Andy was among those who perished at sea. Not one of the Japanese lost his life. It was the worst maritime disaster in our nation's history, but because it was classified information at first, the story of the Arisan Maru has been mostly untold.
Andy has been honored in his hometown by the Veterans of Foreign Wars, which named its post the Anderson-Murphy post in memory of Andy and Marine Gunnery Sergeant Lloyd D. Murphy, who also lost his life in World War II. By this, they are remembered. But who among us could name three, or two, or even one of our area's other heroes?